Designing for Print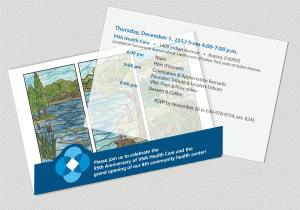 A client called me last week. A special event was being hosted by this health care organization, and the client wanted more than a standard invitation. Something that would stand-out and be noticed. Perhaps a die-cut?
In this interactive age, the request was a designer's dream. My project load has become increasingly digital. But there are just some things you can only do in print media. Die-cuts, folds, specialty papers, embossing, foils, letterpress are just some of the features print designers drool over. Print is tactile, and has a permanence that can not be achieved in digital design.
My client wanted to feature the new stained glass windows which were a part of their new facility. I created an invitation that had a die-cut fold, and a translucent insert. The invitation information was printed on the insert, which overlaid the stained glass image. This custom invitation was unique to the client and event, creating both a memorable impression and a lasting souvenir. Is a print design needed for your next project? Designing for print requires technical knowledge as well as design talent. Contact Resolution Creative to discuss the possibilities.